History
Once Called Deck Tennis by the sailors on their Voyage Tennikoit Has become a copetative Sport.Tennikoit is one of the less expensive,but fast thrilling game.
Tennikoit Federation of India (TKF) has been recognised by Ministry of Sports,Govt.of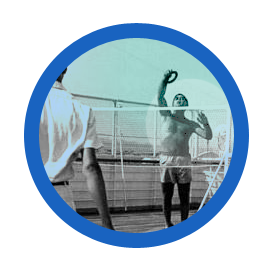 India,Indian Olympic Association and School Games Federation Of India.Under the auspices of the Federation, Sub-junior, Junior and Senior National Tennikoit Championships are being conducted by our member states every year.
"Tenni-Koit" is an Old aged Rural game in Kerala named as 'RING TENNIS',Which is played either under daylight or under flood lights.It is played both indoor and outdoor by both sexes.The game consists of both Singles and Doubled inclusive of all Mixed Doubles.Singles is Two-Player game,which is played by two players opposing each other.Doubles is a four player game,which is played by two teams of two players each,which play against each other.In the mixed Doubles, One male and Female shall from one team.Team championship is played on the basis of Davis Cup Pattern.